Posts for: June, 2014
By William G. Bender, DDS
June 17, 2014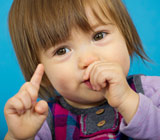 For many parents, the image of an infant intently absorbed in sucking a pacifier — or her own thumb — is one of the cherished memories of babyhood. But if this habit goes on for too long, it can cause problems with the child's bite. Want to know what the potential predicaments are, when you should be concerned about the behavior, and what you can do? Read on!
Thumb sucking is a natural, comforting behavior of humans (and some other primates) related to nursing. It usually goes away on its own by the time the permanent teeth are coming in. But it can be a hard habit to break — and if it becomes a persistent behavior, the consequences may include a problem called an "open bite."
In a normal bite, the top teeth slightly overlap the bottom teeth. When the thumb (or any other object) constantly rests between the upper and lower teeth, however, the pressure it exerts may prevent the teeth from fully erupting (coming out from the gums into the mouth) and alter the shape and development of the upper and lower jawbone. This result is a gap between the upper and lower teeth.
The same problem may also be caused by prolonging the "infantile swallowing pattern," a forward-thrusting position of the tongue which, like thumb sucking, normally begins to cease around age four. That's when it is replaced by the adult swallowing pattern, where the tongue is held behind the teeth, against the roof on the mouth. Researchers believe that most open bites result from the failure to change from the infantile to the adult swallowing pattern.
When should you be concerned about the thumb sucking habit? If the behavior continues much past toddlerhood, or if the sucking is particularly active, you may wish to have us evaluate your child's bite. The American Academy of Pediatric Dentistry recommends having the habit stop by age 3. Persistent thumb sucking can actually push the teeth forward and change the growth patterns of the jaw, creating more difficult problems.
There are several methods for controlling the behavior and correcting problems with the bite. One is an appliance called a "tongue crib." This thin metal device is placed behind the upper and lower incisors. It discourages thumb sucking, while at the same time helping to keep the tongue from inserting itself between the upper and lower teeth. Eliminating these unhelpful habits is essential to allow the teeth to erupt into proper position and to allow for the normal development of the jawbones.
Recent research has also shown that individualized exercise routines called orofacial myofunctional therapy (OMT) can be highly effective in preventing open bite relapses. These exercises are designed to retrain muscles in the face, tongue and lips, and can help to create good chewing and swallowing patterns.
If you would like more information about thumb sucking or children's bite problems, please contact us or schedule an appointment for a consultation. You can also learn more about these issues by reading the Dear Doctor magazine article "How Thumb Sucking Affects The Bite."
By William G. Bender, DDS
June 02, 2014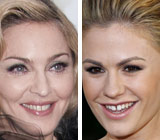 One's a singer who made her name playing New York clubs in the 1980's before catapulting to international pop stardom; the other's an actress from New Zealand who, in 1994, at the age of 11, became the second-youngest person ever to win an Academy Award. Both remain at the top of the A-list today. What other feature do Madonna and Anna Paquin have in common?
You guessed it — it's their teeth. Both have a small but noticeable gap between their two front teeth, known as a diastema. This condition is relatively common, and it's normally easy to treat — if that's something you'd like to do. But wait a moment… In certain African countries, this kind of smile is considered a sign of fertility; in France, they call it "dents du bonheur" (lucky teeth); some other cultures consider the gap a predictor of future wealth. So if you've already made this look work for you, there's no need to change it — even if you might need other cosmetic dental work.
The "perfectly imperfect" smile has become an increasingly popular option for people having veneers, cosmetic bonding, or even dental implants. Some trend-watchers have even noted a pushback against the ideal of a completely even, flawless, Hollywood-white smile. Does that create a problem at the dentist's office?
Absolutely not! We call the process of figuring out how your teeth should look "smile design" — and it's as much an art as a science. When we're just beginning to design your smile, we look at a number of features — including the size, shape, color and alignment of your teeth, the position of your lips, the amount of gums exposed, and the relationship between your smile and your other facial features. We're also listening carefully to you: what you like and don't like about your smile, how you think it could be improved… and what should stay just the way it is.
Of course, before doing any cosmetic work, we will always perform a complete dental exam to detect any underlying condition and determine what treatments are best. Then, we will work with you to help you get the smile you've always wanted. Not sure exactly how it will look when it's all done? Ask us for a preview — from computer-generated pictures to actual 3-D models, we can show you how your new smile will enhance your appearance.
So if your smile needs a little help to look its best — but you still want it to be uniquely yours — maybe now is the time to come in and see us. If you would like more information on smile design, please contact us or schedule an appointment for a consultation. You can learn more in the Dear Doctor articles "The Impact of a Smile Makeover" and "Beautiful Smiles by Design."