Posts for: February, 2021
By William G. Bender, DDS
February 18, 2021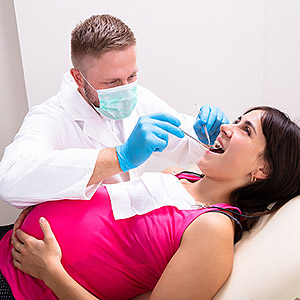 Learning you're pregnant can change your life in a heartbeat—or now two. Suddenly, what was important to you just seconds before the news takes a back seat to the reality of a new life growing within you.
But although many of your priorities will change, there's one in particular that shouldn't—taking care of your dental health. In fact, because of the hormonal changes that will begin to occur in your body, your risk of dental disease may increase during pregnancy.
Because of these hormonal variations, you may find you have increased cravings for certain foods. If that includes eating more carbohydrates (especially sugar), bacteria can begin to multiply in your mouth and make you more susceptible to tooth decay and periodontal (gum) disease.
The hormones in themselves can also increase your risk of gum disease in particular. There's even a name for a very common form of gum infection—pregnancy gingivitis—which affects around two-fifths of pregnant women. If not treated, it could aggressively spread deeper within the gums and endanger both your teeth and supporting jaw bone.
The key to minimizing both tooth decay and gum disease is to keep your mouth clean of dental plaque, a thin bacterial biofilm most responsible for these diseases. You can do this by keeping up daily brushing and flossing and maintaining regular dental cleanings and checkups. Professional dental care is especially important during pregnancy.
You may, though, have some reservations about some aspects of dental care, especially if they involve undergoing local anesthesia. But many medical organizations including the American Congress of Obstetricians and Gynecologists and the American Dental Association recommend dental treatment during pregnancy. Even procedures involving local anesthesia won't increase the risk of harm to you or your baby.
That said, though, elective dental work such as cosmetic enhancements, might be better postponed until after the baby is born. It's best to discuss with your dentist which treatments are essential and should be performed without delay, and which are not. In general, though, there's nothing to fear for you or your baby continuing your regular dental care—in fact, it's more important than ever.
If you would like more information on dental care during pregnancy, please contact us or schedule an appointment for a consultation. You can also learn more about this topic by reading the Dear Doctor magazine article "Dental Care During Pregnancy."
By William G. Bender, DDS
February 08, 2021
When you were a kid, a plate of green beans or carrots probably seemed less appealing than a handful of cookies or a bowl of ice cream. Mom or dad telling you to "eat your vegetables" was the last thing you wanted to hear.
Hopefully, you've made friends with fresh fruits and vegetables as you've grown up. But even if you're just acquaintances, these foods are nonetheless essential to good health, particularly your teeth and gums. Among other things, they're packed with vitamins and minerals that help prevent tooth decay, gum disease or even oral cancer.
Here's a sampling of dental health-boosting micronutrients and the foods you'll find them in.
Vitamin C. Found in a variety of fruits and vegetables, vitamin C boosts the immune system to fight infections like tooth decay or gum disease. It's also an antioxidant that lowers your risk of cancer.
Calcium. This mineral obtained through dairy products, bony fish, greens and legumes, strengthens teeth and bones. It can also improve nerve and muscle function.
Vitamin D. This vitamin helps teeth absorb calcium to make them less prone to decay. You can find this essential vitamin in dairy foods, eggs, fatty fish or sunlight.
Phosphorus. Like calcium, phosphorus also strengthens teeth and bones. You'll find it plentiful in dairy and meats, especially seafood and poultry.
Magnesium. This mineral helps teeth and bones absorb other minerals and can also help with enzyme function needed to avoid disease. You'll find it in nuts, legumes, whole grains, dark leafy greens, seafood and chocolate.
If you don't think you're getting enough of these and other nutrients, you can obtain them through dietary supplements. But do be careful: The Food and Drug Administration (FDA) can remove harmful supplements from the market, but only after consumer use has provided evidence that they're unsafe. And, you won't be getting fiber or other elements found in regular foods that your body needs to be healthy and function properly.
Still, if you think you need to supplement a nutritional deficiency, speak first with your doctor or dentist about it and what you should take. If at all possible, though, eat your veggies—your teeth and gums, as well as the rest of your body, will be the healthier for it.
If you would like more information on nutrition's role in dental health, please contact us or schedule an appointment for a consultation. You can also learn more about this topic by reading the Dear Doctor magazine article "Vitamins & Dietary Supplements."