Posts for tag: crown
By William G. Bender, DDS
September 06, 2019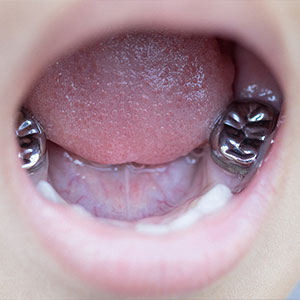 One of the key elements in a child's development is their first set of teeth. Although primary ("baby") teeth last only a few years, they're critically important for enabling a child to eat solid foods, speak and smile.
But they also provide one more important benefit—they hold the space in the jaw reserved for the permanent teeth developing just under the gums until they erupt. But if a child loses a primary tooth prematurely because of disease or injury, other teeth may drift into the vacant space and crowd it out for the intended permanent tooth. It may then come in misaligned or remain stuck within the gums (impaction).
To avoid this, we try to treat and preserve a diseased primary tooth if at all practical. For a primary molar, one of the large teeth in the back of the mouth, this might include capping it with a stainless steel crown.
Why a metal crown? Primary molars normally don't fall out until around ages 10-12, so it may be years for a younger child before their permanent molars erupt. All during that time these particular teeth will encounter heavier biting forces than teeth in the front.
A steel crown is often the best solution for a molar given their longer lifespans and encountered biting forces. The crown's metal construction can stand up to these forces while still protecting the tooth from re-infection from decay. And because molars are typically outside of the "smile zone" occupied by more visible front teeth, the crown's metal appearance isn't usually an aesthetic issue.
Crowning a molar usually takes one visit, a dentist typically performing the procedure with local anesthesia and possibly a mild sedative like nitrous oxide gas ("laughing gas"). After removing any decayed structure from the tooth, the dentist will then fit a pre-formed crown over the remaining structure, sized and shaped to match the original tooth as close as possible.
A stainless steel crown is a cost-effective way to added needed years to a primary molar that could otherwise be lost prematurely. Preserving it may help a child avoid bite problems and expensive future treatments.
If you would like more information on dental care for primary teeth, please contact us or schedule an appointment for a consultation. You can also learn more about this topic by reading the Dear Doctor magazine article "Stainless Steel Crowns for Kids: A Safe and Effective Way to Restore Primary Molars."
By William G. Bender, DDS
May 09, 2015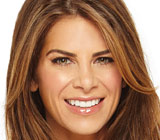 As America's toughest trainer on the hit television program The Biggest Loser, Jillian Michaels helped people learn that they hold the power to change. And if anyone knows about the power of changing oneself, it is Jillian Michaels. In her recent interview with Dear Doctor magazine, Jillian discusses her childhood, the trauma of being overweight as a teenager (5' 2" and 175 pounds), and the day her life forever changed when she started martial arts training at a gym. "I started training when I was 17 and always loved it but never thought it would end up being my career," she said.
Jillian also reveals that when she was a child, she broke her two front teeth and had them repaired with crowns. She added, "Now, I generally wear a mouthguard if I am doing anything where my teeth have any chance of being knocked out."
When it comes to replacing teeth that are broken or damaged from trauma, or teeth that are damaged because of dental decay, grinding habits, or acid erosion, crowns may be your best option. And because the tooth enamel is damaged, a bit more of it must be removed before we can place a crown. Generally speaking, we must remove about 2 millimeters of tooth structure to place a crown. Once the crown is placed, the tooth will always require a crown, as this is an irreversible procedure. However, the good news is that a crown not only mimics the look and feel of a natural tooth, but it is also the optimal long-term solution. On average, a crown last between 5 and 15 years and requires no special maintenance. In fact, you should treat your crown as you do your natural teeth, with a daily cleaning regimen of brushing and flossing and routine dental examinations and cleanings.
To learn more about crowns or other cosmetic procedures, contact us today to schedule an appointment so that we can conduct a thorough examination, discuss any questions you have as well as what treatment options will be best for you. Or to learn more about crowns now, you can continue reading the Dear Doctor magazine article "Porcelain Crowns & Veneers." And to read the entire interview with Jillian Michaels, please see the article "Jillian Michaels."