Posts for tag: partial denture
By William G. Bender, DDS
September 06, 2021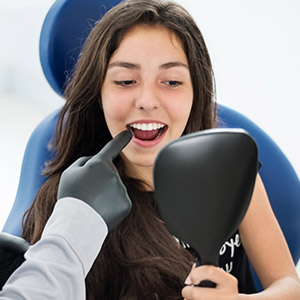 Here's some good news: Teenagers are less likely than adults to lose teeth to dental disease. But there's also a flip side. Teens can still lose teeth, more likely from traumatic injury.
Fortunately, there are several options for replacing lost teeth like dentures or bridges. But the choice considered best by most dentists and patients is a dental implant. An implant tooth looks and functions like the real thing—and it's durable, capable of lasting for years, if not decades.
But there's a hitch with teens getting an implant: Even though they may have all their permanent teeth by adolescence, their jaws are still growing and developing. Natural teeth, with their attachment to the jaws by way of a periodontal ligament, can keep pace with this growth—but implants can't.
That's because an implant doesn't have this attachment to gum tissue like natural teeth, but to the jawbone alone. Hence, an implant tooth can't keep up with jaw development, and may eventually look like it's "sunk" into the gums in relation to the teeth around it.
It's best, then, to wait until a teen's jaws have fully developed before attempting an implant. In the meantime, though, they don't have to endure a smile marred by missing teeth, but can replace them with a temporary restoration. The two most common options are a partial denture or a modified bridge.
The partial denture is a lightweight version that's quite affordable. Although not as durable as other types of dentures, the appliance is only intended to last until the patient is old enough for a permanent implant.
The modified bridge is a prosthetic tooth with strips of dental material extending behind it that are bonded to the backs of the teeth on either side to hold it in place. It's likewise not as durable as a traditional bridge, but it can fill the bill until time to place an implant.
Although this adds an additional step in a teen's restorative journey after losing a tooth, it's necessary—waiting to place an implant after jaw maturity will help ensure a long-lasting result. In the meantime, a temporary tooth replacement will help them to enjoy a normal smile.
If you would like more information on dental restorations for teens, please contact us or schedule an appointment for a consultation. You can also learn more about this topic by reading the Dear Doctor magazine article "Dental Implants for Teenagers."
By William G. Bender, DDS
May 09, 2021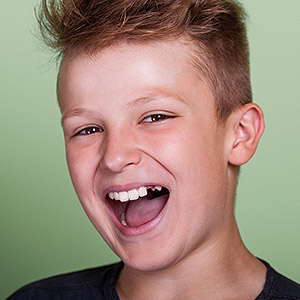 While anyone can lose a permanent tooth, the cause often varies by age group. Adults usually lose their teeth to disease, while those under twenty lose a tooth to accidents.
For adults, a dental implant is usually the best way to replace a missing tooth. Teenagers and younger, on the other hand, must wait to get implants until their jaws fully develop. An implant placed on an immature jaw will eventually look and feel out of place.
For most, their jaws won't reach full maturity until their early twenties. Even so, they still have a couple of good options for restoring their smiles in the meantime, albeit temporarily.
One is a removable partial denture or RPD, a device with the replacement prosthetic (false) tooth or teeth set in a gum-colored acrylic base. Of the various types of RPDs, most teenagers do well with a rigid but lightweight version called a "flipper," called so because it can be flipped in and out of place with the tongue.
These RPDs are affordable, their fit easily adjusted, and they make cleaning the rest of the teeth easier. But they can break while biting down hard and—because they're dentures—aren't always well accepted among teenagers.
The other option is a bonded bridge. Unlike a traditional bridge secured with crowns cemented to natural teeth, a bonded bridge uses a strip of dental material affixed to the back of the prosthetic tooth with the ends of the strip extending outward horizontally. With the prosthetic tooth inserted into the empty space, these extended ends are bonded to the backs of the natural teeth on either side.
Though not as secure as a traditional bridge, a bonded bridge is more aesthetic and comfortable than an RPG. On the other hand, patients who have a deep bite or a teeth-grinding habit, both of which can generate abnormally high biting forces, run a higher risk of damaging the bridge. A bridge can also make hygiene tasks difficult and time-consuming, requiring a high degree of self-discipline from the patient.
Whichever you choose, both options can effectively replace a teenager's missing tooth while waiting for dental implants. Although temporary, they can make the long wait time for a teenager more bearable.
If you would like more information on restorations for children and teens, please contact us or schedule an appointment for a consultation.
By William G. Bender, DDS
January 21, 2018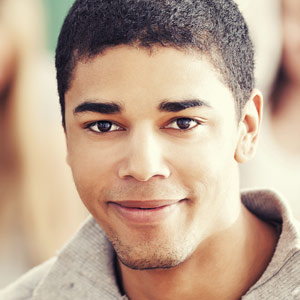 Besides reduced biting and chewing function, a missing tooth can cause an embarrassing inhibition to healthy social interaction. This can be especially so for teens who greatly value peer relationships and acceptance.
Be that as it may, we typically discourage a permanent replacement for teens with a missing tooth, particularly dental implants. While we value a patient's psychological needs, the long-term effect on dental health may be too great to advise otherwise.
The effect we're concerned with involves jaw growth and development. Although a person's permanent teeth have usually all erupted by early adolescence, the jaws continue to grow until the late teens or early twenties. Natural teeth can adapt to this growth because the periodontal ligament that holds them in place allows for incremental tooth movement. The teeth move in response to jaw growth and are thus able to maintain their proper relationship and alignment in the jaw as growth occurs.
Dental implants, on the other hand, are imbedded into the jaw bone: they, therefore, can't move like natural teeth and thus can't adjust their position with jaw growth, particularly the upper jaw as it grows forward and down. This can result in the implants appearing as though they are left behind or retreat into the jaw. It can also affect the position of the gums and inhibit their growth around the implants.
It's best then to hold off implants and other permanent restorations until the jaw has finished developing. That, however, isn't always easy to determine: specialized x-ray diagnostics may help, but it's not an exact science. Your input as a parent will also be helpful, such as whether you've noticed the end of growth spurts (not changing clothes or shoe sizes as often) or your child's recent similarity in appearance to other adult members of your family. It thus becomes a judgment call, based on examination and experience, as to whether it's safe to proceed with implants — and may require erring on the side of caution.
In the meantime, there are temporary restorations that can improve appearance while you wait for the appropriate time to undertake a permanent restoration. Two of the most useful are removable partial dentures (RPDs) or a bonded bridge, a less invasive form of the traditional bridge. With a proper assessment we can advise you on which option is your best choice.
If you would like more information on tooth restorations for teenagers, please contact us or schedule an appointment for a consultation. You can also learn more about this topic by reading the Dear Doctor magazine article "Teenagers & Dental Implants."